Monday 09/05/05
I awoke Monday morning having slept pretty good. I didn't toss and turn too much during the night like I thought I would having anticipated this day all year. It was 7:00 am and I was up and moving around. I took a quick shower and dressed in my cycling gear. After a quick breakfast of cream of wheat, canned peaches, and a breakfast bar I started to pack up my gear that would go home with Lynn and Patty later that day. Next was to get the bike loaded. I had packed everything the night before so it didn't take to long. There was a lot of excitement on both the party of the hosts and the guest. We took a couple of pictures in front of the home as I connected the trailer, to them it was fascinating to see how it all fit together, then we took pictures as I made my way down the driveway and then had to stop so they could get another picture of me coming around the corner. Now it was time to get going, I made my way down the driveway, around the corner, past the photographers, and kept on going listing to well wishes and goodbyes in the distance behind me. There was the one last picture they took as I rode off into the morning air surrounded by the tree's of Fort Bragg.
It was 8:00 am and I was heading down the road, it was really happening, after six months of planning, reading, buying stuff, reading maps, buying a little more, reading books, online journals, and emails it was finally hear my very own Pac West Tour of 2005.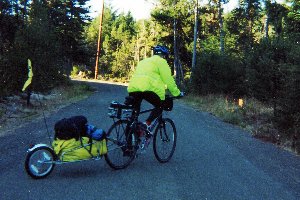 I had done a lot of cycling all summer long, about 1,700 mile in all, but I had not done any of that with the trailer. That was the first thing I noticed as cycling down the road that had a slight incline to it, not much just enough to feel the weight of the trailer. I knew right then and there this was not going to be easy. Not that I thought it would be easy, I just knew even more now that it wouldn't.
Soon I was at the end of the lane and ready to make a right turn to head down Simpson Lane. I was now going downhill and headed towards Highway 1. It was a fun two miles as I was flanked on either side by tall trees. Even though it said bike line it wasn't a very smooth bike lane. I wasn't too worried since there wasn't much traffic at this early hour on a holiday. At the bottom of the road I made a left turn onto Highway 1 and was well on my way. The morning air was cool but relatively dry considering I was on the coast, well known for it's fog and mist year round. I was wearing cycling shorts with long tights over them, a short sleeve jersey with a long sleeve jersey and finally a wind breaker. I knew the first thing to go would be the wind breaker. It wasn't that great of a wind breaker, but it did the job. The main problem with it is that it keeps all of the moisture in creating a sweat jacket real quick.
About 4 miles down the road I pulled off to the side near one of the first bridge crossing and took off the wind breaker and wrapped it around my sleeping bag on the trailer, at least it would be a great reflector.
During the next two hours I enjoyed the view of the ocean, going in and out of the many coves, curves, and hills. I was keeping a good pace and didn't feel like I was going too slow. Shortly after 11:30 am I stopped for a quick lunch break. I was in front of a little flea market shop and it was nice to sit in the grass and watch the small town life. Thirty minutes later I'm back on the bike heading down the road. I am making good time and will be in Gualala early.
As I make my way along the coast there aren't really any big hills to speak of, at least not today. Instead it is a lot of coves that you drop down into and then climb out of. The hardest one of the day forced me to get off my bike and walk about 30 feet to the point that I could ride again. When I stood up to try and pedal the front wheel came up off the ground, that's steep. As I made my way toward the top I look up ahead and sitting on the railing around the curve was a vulture sitting there watching me. I don't believe in omens but that isn't exactly what I wanted to see as I made my way up the hill. I hated to disappoint him but I wasn't going to be dinner today.
The next couple of hours seem to go by quickly. It became somewhat of a routine to pedal along, enjoy the drop down, gear down quickly and then pedal back up the other side. On one particular cove it had a large concrete barrier along the side, maybe built because of erosion, along the barrier in the bike lane was a draining strip, nothing bad, and then I saw it, too late. I draining grate, like what you see on the corner of your street, the only thing was this was a little on the recessed side, about 2 to 3 inches. Not a big deal except I was going 30 miles per hour when I hit this bump, of course I was sitting firmly on my seat when I hit it, yes it hurt.
In Anchor Bay I stop at a little market to get a soda and a snickers bar. I'm sitting in front of the market enjoying my treat when a couple come out of the restaurant next to the shop. They look over at me and smile, then the wife exclaimed, "You're fast!"
I knew I was good, but I wasn't that good before I could say anything she continued, "We just saw you this morning in Fort. Bragg. We've been visiting all of the tourist type places all day making our way down the coast. We actually thought you had a kid in your trailer. Are you training for a marathon?"
"Nope just riding my bike home."
As her husband was lighting up a cigar she looked at him and then me and asked, "You don't smoke do you?"
"Nope, I need my lungs for other things."
Happy with my answers the wife went into the market and left me to talk to the husband. I found that they were heading back home to San Francisco and would be there in another hour or two. It was fun to talk to someone like this. I hadn't talked to anyone all day. I finished my snack saddled up as we wished each other a safe journey and I headed back on the road.
At 3:15 pm I pulled into the small town of Gualala. I pulled into the parking lot of a small diner off to the right side of the road to use the pay phone to call home. I found all was well there and that Angie was surprised I had made it already with so much time left in the day. I told her I would call again tomorrow night, it would be late because it would be a lot more miles.
After my call I headed down the road to the campgrounds. They are just outside of town on the left hand side right after you cross a river just south of town. You go down this hill pretty fast, which means an up hill climb in the morning. Upon entering the campsite it took a minute or two to figure out the place. There was a board up front showing what was available and then I finally found the hiker/biker sites tucked away in the far back of the campground. There was a camp host but he is not on duty Mondays. Just my luck. I made my way through camp noticing where the showers were located and finding that most of the campsites were vacant. Everyone must have packed up and headed out now that the holiday over.
I found the hiker/biker sites tucked away in towards the back of the campground. There are actually 4 different parts of the hiker/biker site and could accommodate quite a few. But for tonight it would just be me. I began pulling everything off of the trailer and started to officially setup camp. First the tent went up, the sleeping bag unrolled, and cooking gear laid out. Next was to take a nice shower. The shower only cost $1.50 but I spent $3.00 and enjoyed the hot water. There's something about a good shower that just makes you feel much better.
I washed out my long sleeve jersey and tights and hung them up to dry, I knew they wouldn't be dry by morning time but at least they would be clean. Next came cooking. For Dinner was canned spaghetti and meatballs, pineapple, and crackers. Soon I was sitting down to a nice hot meal. The spaghetti was too bad but at this point it didn't matter, it was food and it would replenish the calories spent today. Dinner didn't take long to make, eat, and then cleanup.
It was only 4:30 pm and I had a lot of time to kill. I decided to walk around the camp and check things out, not much else to do. After going through all of the campsites and collecting all of the wood that had been left by the holiday campers I had enough to make my very own campfire. After my collection of wood I decided to follow the trail that said beach 1 mile. I figured there wasn't much else to see around here.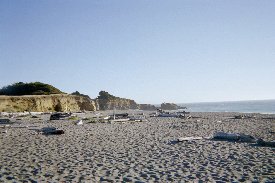 With that I headed to the beach and enjoyed the beautiful trail along the way. Before I got to the beach I found the visitors center, which was closed for the day, and read about the surrounding area. Next I followed the trail down to the beach and looked at all of the drift wood scattered around the place. There was so much of it that many had made forts and houses out of a lot of it. I sat in the sand and watched the surf for a bit then decided to head back. It would have been nice to watch the sun go down but I really didn't want to hike back along the trail in the dark.
Once back at camp I made notes from the days ride, wrote my thoughts in my journal and lit my little campfire. It was dark a little after 7:00 pm and with the thick tree cover it was dark even earlier. By 8:00 pm I had visited the bathroom one last time and got ready for bed. I watched the last of the fire die out and then headed to bed by 8:30 pm. It didn't take long to fall asleep.


Daily Stats

Rider: Devin Holmes
Time Left: 8:00 am
Time Arrived: 3:15 pm
Max mph: 37.9 mph
Avg mph: 11.9 mph
Distance: 61.46 mi
Actual Time Riding: 5:08:16
Elevation Climbed: 3,900 ft
Camp Fee: $5
Shower: $3
Snacks: $4
Ferry: $0
Lunch: $0
Dinner:$0
Laundry: $0
Total Cost for today: $12