Tuesday 09/06/05
Of all the days to sleep in this was not the day I could, but I needed just another 30 minutes so I reset the alarm to 7:30 am and rolled over for another 30 minutes of sleep. I slept fairly well during the night and didn't hear any cars, campers, animals, or even the water. It was very pleasant. At around 7:45 am I finally got myself up and out of the tent. I started to put things away and get packed. The last thing I did was get breakfast prepared. Of course once I went to put the stove away it was still too hot, note to self do breakfast first to give stove time to cool down. After using the restroom one last time the stove was finally cool enough to put away. I packed everything on the bike, hooked the trailer up, mounted the steed and headed for the open road.
Riding out of camp I noticed a few more campers had come in during the night. The last campsite I saw leaving had a bike with a trailer hooked up to it. Mounted to the trailer was a large wooden cross, it was attached to the bike as well as to the handle bars to prop it up. I would have loved to find out more about his crusade but it was already 9:00 am and I had 85 miles to do today.
Coming out of Camp wasn't as easy as coming in the night before because I was going up hill, but at least it got the blood flowing early. Soon enough I was back on Highway 1 and making a left turn to head South once again. It was overcast today with the marine layer having pushed in further than yesterday. I didn't have my long sleeve jersey on since it fell in the dirt last night after I had washed it. Once again I kept taking my wind breaker on and off all morning and finally just left it off.
During the first 20 miles I passed a number of small beach access points. Most would have a small parking lot, enough for maybe 6 to 12 cars, and there would also be a pit bathroom. Most all of the roads along this area were private roads and there were plenty of signs to remind you in case you decided to turn onto one of them.
Today the traffic was out, not in full force, but definitely more than the day before. I felt like I was given plenty of room despite the fact that there wasn't much room to give, at no time did I feel like anyone went too close just because they didn't want to give me room.
The hills were a bit more today than yesterday and the two biggest for the day would be just outside of Fort Ross. It's a big tourist attraction for those that visit the area but I wouldn't have time to do much sight seeing today. You can see the Fort from the Highway and that was about all I was going to see.
It was in the next couple of miles that I stopped for lunch. There was a campground that had a water fountain and flush toilet out front. Lunch wasn't much, crackers, a small can of chicken, some fruit, and harvest bars. I realized after I had eaten that it was sufficient for now but it wasn't going to last until dinner. I would have to get something else to eat once I hit Bodega Bay. After 30 minutes of a rest I headed back out on the bike and began the long climb up the hill. The road started to go up and I could feel it as the grade continued to increase. Next I passed a sign that was a bit of a warning. It was basically saying that if conditions ahead were to bad they would close the road. Sure enough there was a gate that swung the entire length of the road and could be closed. But for now the weather was fine, albeit misty, but fine. Again the road continued to climb and I was now noticing that there was a bigger and bigger shear drop off to the side that just increased as the further I went up. My speed was dropping fast and I was only doing about 4 to 5 mph. I was watching the altitude on my cyclometer and it was slowly going up from 350 feet to 400 feet. I knew I still had a more to go because this hill showed it going just over 500 feet.
The road was actually not bad, there was at least enough of a shoulder that I could stay on the right of the white and give cars enough room to slide by me. What I was amazed at was the shear cliff that was on my right. There isn't much of a railing as you go along. Mainly in the hard turns but in the straightaway there wasn't any. Around a few more twists and turns and I'm at the top, 509 feet. Just as fast as I hit the top I'm now descending down at a pretty fast pace. It's a cruel thing to a cyclist, get him thinking the worst is over by letting him ride downhill, just long enough to then start back up hill again. This time it would peak out at 519 feet.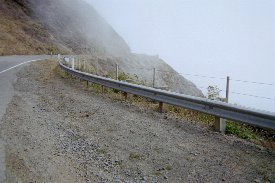 The mist has gotten a little heavier. I can hear a few trucks up ahead in the distance and decide to pull over as I see a few cars coming up behind me. I get a few waves and a honk of appreciation. No problem, a good excuse to pull over and take a breather.
I hit the top and once again it's time to descend, flying through a number of twists and turns I'm easily doing 35 to 37 mph down this hill. It won't last long though. I'm going through a number of tight switchbacks that will take me down into a cove only to have to then climb my way back out. As fast as I hit the bottom I have to gear down and start climbing again. With each turn I feel the trailer pushing me along, it's important to keep control or you'll end up over shooting it with the weight of the trailer.
The view has definitely changed. I'm right on the coast just a sea level and looking out along all the beaches that line this part of the highway. Each beach has a name, some have a good size parking lot to stop at while others are just a parking lane parallel to the highway. No services to use along here.
It's 3:00 pm and I'm now in Bodega Bay. I've done well with my average as it is still around 11.5 mph. I thought it would be much lower but I'm moving right along even with all the climbing I'm doing. I stop and look at the maps, routes, and descriptions once again. My destination for the day is Samuel P. Taylor park. My only problem now is that is another 40 miles away. I'm well spent, I 'm hungry and mad at myself for not sticking to the book and calling Bodega home for the night. It would be so easy to do that but I've made too many plans that require me to be at certain spots that I don't have that choice, I need to keep moving. But first I need to get something to eat. I stop at the first little shop to get something to drink and hopefully a sandwich. They sell burgers but it must be the pre-dinner rush were everyone has the same thought. I instead just get some bottled drinks and a few snickers candy bars and head out the line is too long for the hamburgers and so I'll have to find another place to eat. I make a quick phone call to Connie to let her know my situation. My average is a little slower and will put me at our meeting place tomorrow a little later than I anticipated. We're supposed to meet up in Sausalito around 9:45 to 10:00 am but it will be at least 10:30 am by the time I get there. She's knows I'm not having a good day but it will get better once I get something to eat.
I head back out looking for another place to stop and get something to eat. This is Bodega, home to some of the best clamming and sea fishing. You're not going to find any fast food here so I don't know what I was doing. Finally I found a Hot Dog and Hamburger place and call it good. It wasn't the cheapest hamburger I've ever had at $11.00 but at this point I didn't care, I just needed a place to eat, sit, use the restroom, gather my spirits, move on, and it only cost me $11.00.
Soon enough I'm back on the road and determined to make my final destination. I'm heading away from Bodega now and heading towards Tomales and Marshall. I've been to much of this area before with Scouts Camping over the years. So I'm not worried about getting lost. I'm more worried about my bike, flats, and the like. But there is no time to worry, just keep pedaling.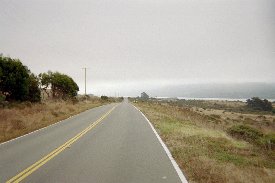 Along this section there really isn't much of a path for a bike. Just you and the white line. It's best to give the cars plenty of room since this area has more traffic with everyone heading to Bodega. I pulled over at least twice because of cars coming from behind me and RVs I could see up ahead. Again I'd rather just get out of their way so I don't have to worry. The road is much flatter here than previous. There are a few up and downs but I'm making good time. I'm heading through Tomales and continue straight ahead per the map. Usually I am coming from the left, this is the route that takes you to Petaluma and then back to Sacramento. We come here all the time to go to Dillon Beach, not today. It's a bit strange as this road leads back to the Ocean, but once you get there it's not the Ocean you find instead it's Tomales Bay, home to a number of Oyster Farms. You can see the cages all along the shore, each with a buoy, all nice and neat. No time to take pictures I need to keep moving it's just after 5:30 pm and I've only got another 90 minutes or so of light.
Somewhere along here I stop for a bit to get something to drink, look at the map, and read the descriptions about the points along the way. Many times when I stop I'll pull out the maps, even though I've read them a number of times it helps me think things through and keep focused. That's when it hits me. A little blurb at the bottom of the description for Olema Ranch Campground. It says that it's a good alternative for Samuel P. Taylor for when it closes due to lack of water in the later Summer or Early Fall. What?! Closes?! What do you mean closes?! How can a campground close. Why is this the first time I've read this blurb. It's amazing how fast the mind can think about all those stupid little possibilities. I could just imagine my luck, showing up at Samuel P. Taylor and finding it closed. Nothing is around that place, it's 6 miles in and then another couple miles to get out. I didn't have the time to get there and then back track out. I decided to just go ahead and stop at Olema Ranch Campground. It was about 6 miles closer and would be me behind in the morning but I at this point I could only go by what I had in front of me and the time I had left.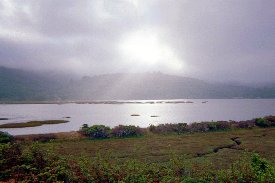 With that I got back on the bike and continued on. Another couple of miles down the road I felt something behind me, it was weird, sort of a warm feeling, I turned and there it was, the sun trying to break through the clouds, it was my moment of hope. That one moment in time when you realize it's okay. I stopped to take a picture enjoyed the moment and continued on. Depending on which directions you want to follow Adventure Cycling has you go a different route than the Bicycling the Pacific Coast Guide either way you'll still get along pretty much the same way. The Guide does take you through Olema which is where I wanted to be. It does have a number of shops and stores that you can stop at but I didn't have time. It was quickly becoming dusk as it was almost 7:00 pm and I needed to get there. Just on the outside of town I saw a big sign, Olema Ranch Campground. As soon as I pulled in I realized I had been here before, about 4 years ago I had gone on an overnighter with my son and his 6th Grade Class. This was meant to be. This place was awesome with a laundry facility, little store, and hot showers. I paid the $25.00 overnight fee and made my way to the payphone to let Ang know I had made it okay. She was glad to hear that I arrived without incident but worried that I hadn't called earlier. I told her tomorrow would be another long day of miles and that I would try and call sooner.
After the call I made my way to the campground. It didn't take long for me to get things unpacked and setup. Soon I was making my way to the showers to enjoy a good hot shower. The price of the shower is in your overnight fees so no quarters needed here.
Instead I used the quarters up front at the laundry mat. I decided to get everything clean including the long sleeve jersey I had dropped in the dirt after washing last night. As I started the load I went back to the little store to get something to eat. I didn't feel like cooking so I grabbed a roast beef sub, Doritos, and drinks. The Doritos went fast, I only ate half the sub, and the drinks were gone as well. After about 35 minutes I was done with the laundry and heading back to my camp. It was very dark except for the lights around the restrooms thank goodness I have my trusty windup flashlight (Thanks Judy!). I decided to brush my teeth and call it a night. I was going to need all my sleep for tomorrow would be another difficult day.
I finished writing my notes for the day, writing in journal, and turned out the flashlight another successful day on the road.
Daily Stats

Rider: Devin Holmes
Time Left: 9:00 am
Time Arrived: 7:00 pm
Max mph: 37.9 mph
Avg mph: 11.6 mph
Distance: 81.59 mi
Actual Time Riding: 7:17:11
Elevation Climbed: 5,244 ft
Camp Fee: $25
Shower: $0
Snacks: $7
Ferry: $0
Lunch: $11
Dinner:$6
Laundry: $4
Total Cost for today: $53