Wednesday 09/07/05
It's a well known fact that I snore when I sleep. I admit it. I'm not proud of it but I know that it's not as loud as the guy that was six campsites over from me last night. I woke up out of a dead sleep at 12:30 am and was worried, why did I wake up, is something wrong, is my bike okay, and what the heck is that loud noise, I donít think itís a chainsaw. I looked out my tent to make sure it wasn't a bear right next to the tent, nope no bears. Instead about 6 tents away you could see one tent and just feel the vibrations each time someone breathed in, then out. No problem, I brought ear plugs in case the noise of a road was too much to allow me to sleep. So I broke out the ear plugs and went back to sleep, or at least I tried.

There were at least 2 or 3 more times that I awoke during the night from that point until 6:30 am and I just couldn't try anymore. So I got up early and started my routine. Of course it was only my second day camping so I don't think that can count as a routine, but for me this would be it. I made breakfast first and then I packed up the gear, sleeping bag, tent, clothes, etc. Then the last thing to get packed up was the cooking stove, it was plenty cool this time, no problems. The only problem this morning was that I just didn't have an appetite for anything. I didn't feel like eating my hot cereal, fruit, or breakfast bars. I ate some of the cereal, all of the fruit, and none of the bar. I just didn't feeling like eating. I knew I needed to, I would need those calories and in the next couple of hours.

I was packed up and ready to go by 7:45 am. One last trip to the restroom and I was heading out on the road. Once out of the Campground I made a quick right turn and then followed the road for a bit before it was left hand turn up a hill. I was glad I got up early I needed to be on the road as soon as possible. I was already 6 miles behind and I needed to be in Sausalito by 10:30 am to meet Connie. She was taking Amtrak over to Oakland and then a Bus to Downtown San Francisco, and then she would cycle through Fishermanís Wharf, across the golden gate bridge and over to Sausalito. We would meet on the bike trail there next to the building with the blue roof right before it went under Highway 101.

Climbing this hill in the cool morning air I was glad that I was able to do laundry last night. I was in my long sleeve jersey and had my shorts and tights on. It wasnít wet out but it was definitely on the cool side. Another thing I was glad about was the past two mornings I did not have to worry about putting away a damp tent. Not always possible when camping along the coast. Soon I was warm enough that I didnít need the long sleeve jersey but I left it on anyway. I would be heading downhill soon enough. Not much room on the road as it comes into the backside of Samuel P. Taylor park. Despite the directions in the Guide and on the ACA Maps I was not able to find the entrance to the bike trail. Instead I just stayed on the road and followed it all the way through the park. I wish I could have found the bike trail because the road isnít that great. Lots of uneven cement and holes along the edges. Not too many cars to worry about at this time of days but I always ride like one is coming just in case.

Samuel P. Taylor is a beautiful park and Iím sure it would have been nice to camp there last night but it would have been very dark by the time I got there. Iím glad it worked out the way it did. Just before I reach the edge of the park I find the end of the bike trail, it looked much nicer than the road. Also at the edge of the park is a nice restroom that I use.

I didnít stop to take any pictures this morning because I was pressed for time. Iíve got to get there by 10:30 am. Iím back on the road and moving. Iím going through little towns now as I am about to enter civilization. Lagunitas, Forest Knolls, Woodacre, all places with just a few buildings along the road and many houses and farms built on the outskirts. Itís pleasant and a nice ride through. I have more room on the road now and donít have to worry as much about cars. Up ahead I spot a couple on mountain bikes loaded down with gear. Iím gaining on them and soon catch up. I follow behind until they stop for a breather, sounds fine to me. I find out that they are husband and wife here from Scotland on their way to Los Angeles and then they will fly to Chile for another adventure. They have been out for three or four weeks now and enjoying their trip. They are using the ACA Maps and relying upon them for most of their directions.

I follow along as we start heading down the hill into Fairfax, this is where it turns interesting. We have difficulty finding our first turn and eventually find it thanks to a sign that says ďBike Trail.Ē Noting to do with the Pacific Coast route just that itís a bike trail. Next we meander in and out of a residential neighborhood as the route takes us parallel to the main road. Their isnít any room on the main road so that is why we are on this road. We continue on through the neighborhoods and every now and then we go into the neighborhood and then away from the main road. Itís confusing as to which way we should go and finally we stop to look at the map. The husband and wife start to discuss it, with a rich heavy accent, it becomes a little tense and another cyclist goes by, I decide to just follow him, he must know where the trail goes. Heís just a kid on his way to school but I figure itís better than watching tempers flare, plus I need to get moving.

I continue on down the hill into Fairfax and was amazed how well the bike lane was marked. Itís a rather enjoyable ride as you go through, trying to follow the map was difficult, I figured as long as I continued to go down hill I would eventually end near where I needed to be and follow the map from there.

Eventually I get to a point that I can follow the map once again. During the next 45 minutes or so I make my way through Ross, Larkspur, and finally Corte Madera. As you come out of Corte Madera you start to climb again up into the hills. There isnít much room for bikes along here and the road isnít the best. But there arenít many cars either. On this day instead I found a lot of other cyclists. It was kind of weird to see all of these cyclists out, I mean it was a Wednesday morning, why is everyone out. It was like there was a big group ride and everyone was on it. No one paid me much attention; I was just another guy on a bike to them.

You climb for a couple of miles and then get the thrill of screaming down the other side. It was fun to say the least. Once at the bottom you get to an intersection that you will have to cross the street in order to finally hook up with the bike trail that will take you to Sausalito. Iím almost there. I look at my watch and itís just a hair past 10:30 am. Itís only another two or three miles. I continue on and soon can look over and see Highway 101. I cross the little bridge and pass by the Holiday Inn Express, we just stayed there only weeks ago as I rode the Marin Century ride.

I pass under Highway 101 and look to the right for the blue roofed building. I make a left turn and wander into the parking lot looking for Connie. I donít see anyone around, maybe Iím early, and maybe Iím late. Either way I need to stop. After standing there Connie comes out of the building and retrieves her bike. She had been there for a bit and needed to use the restroom. She was glad to see me when I came out because she was afraid I had just passed on by when she was inside.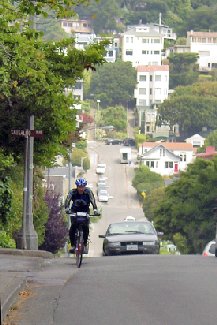 We continued on the bike trail and stopped at a Bicycle Store so Connie could pick up a couple of tubes in case she needed them. The bike trail continues on to Sausalito and goes right along the bay. Itís actually very scenic and pleasant. The closer to San Francisco you get the more cyclists you see all over the place. Soon weíre off the trail and back to following the map. We are heading out of Sausalito and getting ever closer to the Golden Gate bridge. In order to do that though you need to climb just a few more hills. Connie had raced ahead of me to get a shot of me coming up a hill. I wasnít even paying attention until I looked up and saw her taking pictures. This one picture is my favorite as it is able to show me climbing this hill and you get a sense that this wasnít an easy climb. Once I got to the top of this one you take a left turn and continue along to the next climb. Soon you are out of Sausalito and climbing up the last few hills to the Golden Gate. Knowing that Connie had already crossed the bridge and been this way I asked if there were any more hills after this one, she smiled and said, ďNope.Ē I came around the corner to see one more, ďLiar!Ē

Once at the top we crossed the street to make our way along the Golden Gate bridge. Once we crossed the street we were met by a north bound cyclist from Europe, Iím guessing Sweden but it could have been any of them. He had very broken English and just wanted to make sure he was going the right way. He had a Pacific Coast Touring Map, not ACA, and it showed many different ways to go. We told he to keep following the Bike Trail signs and that he was on the right road.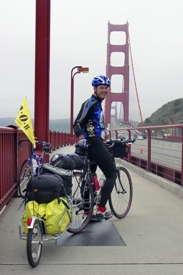 Next it was time for a few shots on the Golden Gate Bridge. I was amazed how clear it was considering how many times I had been to the Bay this year and each time the Bridge had been fogged in. While it was total clear you could at least see the towers of the bridge. We snapped a few shots and continued on our way. While we werenít in a big hurry we did need to get to the Pier by a certain time because of the ferry. The next ferry to leave for Vallejo was 12:35 pm, after that we would have to wait until almost 2:30 pm. It was now 11:30 am and we needed to push on. Once over the bridge we made our way through the Presidio area, which is also a pleasant view, and a great place to stop and eat. Lots of people all over the place and restrooms here and there.

Next we get to Fishermanís Wharf. Connie had come through here early in the morning and said it was a breeze. Now it was mid day and there were street vendors, tourists, and lots of cars. The problem is the map has you go down the main walkway; this is actually going against traffic because it is a one way street. So you can either go up one block or just ride along on your bike on the sidewalk. We walked our bikes for a bit because the sidewalks were so small. But then it widens out past pier 39 and then you can ride your bikes. Just be careful because people arenít paying attention as they are walking on the sidewalks.

Finding the ferry also isnít the easiest thing to do. On the map and on the website it just tells you to go to Pier 1. Once you get to pier one you need to go to the backside of the building and find the boat landing that will take you to Vallejo. We finally found where to go and get there, thinking we had time we asked when the ferry was leaving, ď5 minutes.Ē Okay I guess weíll be getting on here and eating lunch in Vallejo. You actually buy your ticket on the ferry, it was only $10.00, not bad for an hour of rest. The ferry is quite comfortable and you donít even realize how fast it is moving. Before you know it an hour has gone by and youíre pulling into the dock.

Weíre off the ferry and in Vallejo. They have changed it so when you come out of the ferry landing you just go straight and youíre right were you need to be. As we made our way down Georgia Street we were looking for a place to get some lunch. There are a few places to choose from but KFC was the first we spotted that we both agreed on and pulled in. As we pulled in there was a large shopping cart filled with someoneís belongings. I pulled my bike next to it and looked at my trailer, filled with my belongings; I doubt they can get as many miles on their mode of transportation.

It was much warmer on the Vallejo side than it was on the San Francisco side so the first order of business was to change into my shorts and a just wear a short sleeve shirt so I headed to the restroom to take care of this. Then the next order was to get lunch! I was more than hungry after not having had anything since breakfast and I didn't eat much then anyways. I got the usual Twister Wrap Combo with Potato Wedges, a large drink, and a side of cole slaw! I actually hate cabbage but I love the cole slaw at KFC. I got my monies worth on the drink refills. We stayed about an hour and then decided it was time to get back on the road. We still had a number of miles to cover and we would be late getting into Vacaville as it was.

We were now officially on the Western Express portion of the ACA Maps. I was very familiar with the road from here to home because I earlier in the year I was in San Francisco on Business and I had some time before I needed to get home so I decided to follow the route and see how it was.
The ride through Vallejo is pretty quick, only a couple of miles before you hit the edge of town and start climbing. You wind up and around new developments and then make a right turn to head into the hills. Eventually you end up on Lake Herman Road, this of course goes by Lake Herman. I know it's called a lake but it's more like an oversized pond. Big enough for fishing, not big enough for boating of any type. We stopped because they do have restrooms there and a spout to fill up your water bottles. It was so warm by now that I decided to take my shoes off and even get my head wet, it felt good.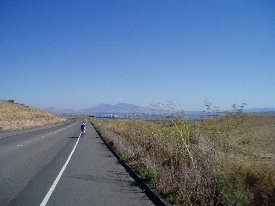 It's now after 4:00 pm and and we head our from the lake and continue on until we hit the end of Herman Lake Road where you meet up with Highway 680 on the east side of Benicia. This is an interesting view point from here because you are able to look at Suisan Bay and the graveyard of ships. Of course the pictures I took of the ships are still too far away but they are the ships that are no longer needed by the military, and so here they sit, maybe to be used again, maybe not, as such it is called the grave yard.
Next you following along 680 on the frontage road called Lopes road for about 10 miles. As we went along this road we new we would encounter wind, it's always windy along this stretch of road. Usually it is coming straight in from the bay, which would make it a tailwind for us. But it was more of a strong cross wind coming from the left side. It didn't hamper us much but it was a pain to ride with it knowing that it could be one heck of a tailwind. Within about 40 minutes we arrive in Cordelia where 680 and 80 meet. There are plenty of stops here in Cordelia to get snacks or a meal at any of the fast food stops. No really large grocery stores here. We did stop here to fill up on water, use the restroom, and call ahead to let our hosts for the night know we were about an hour away.
Connie came back from using the phone and announced that dinner would be ready on the table when we arrived. They were having Antelope for dinner. "Antelope? Are you kidding?" I asked
"No that's what they said, at least I don't think they're kidding, I'm not sure. Well find out soon enough." And so we did.
Most of our travels now were flatland, which is good, allowing us to move pretty fast. The wind wasn't as strong now. We made our way through the farmlands outside Rockville as we headed east into Fairfield. You actually come into the backside of Fairfield and don't pass any of the business that are close to the freeway off ramps. You could find a number of stores and such but you would have to travel off the route. It wasn't until here that I felt unsafe around cars. It was now after 5:00 pm late in the day and people were on their way home from work. I passed by a large apartment complex and people were racing by us to turn right up ahead. I was moving at a pretty good pace of 18 mph, I was watching my mirror as I knew there were cars coming from behind. As I came up to the apartment complex entrance I watched the guy on my right speed up, I was ready to slam on my breaks, when he stopped suddenly realizing he wasn't going to make it. This was the only time I ever felt threatened by a car on my entire trip.
We continued on without any other incidents. We're following along on Lyon Road, another frontage road that goes along highway 80. Next we turn on Cherry Glen Road and follow that to Pleasants Valley Road. We'll be on this for a few miles. We have a few more hills to climb and soon take a right turn off of the route to head into Allendale where our hosts for the night live. We go up and over a few hills, one last climb for the day. We're being passed awfully close by big pickup trucks not used to bikes on these back farm roads. We pay no attention and keep moving. It's late, almost 6:30 pm and we can almost taste dinner. After a few more turns we finally make our way up the driveway, it's gravel and I'm careful not to go down in the last 100 feet of the day. That's all I need.
We're meet with well wishes and clean up fast to sit down for dinner. Everyone is there and it smells good. Lasagna, Salad, Bread, and Antelope. We weren't sure but it was really Antelope. I had a small piece, it's not bad. We enjoyed the food, the company, and had fun telling of our trip so far. I felt bad sitting there in a nice surrounding when I needed a shower. After dinner we all went out side and a few of us just jumped in the pool, which is the next best thing to a shower. We stayed in the pool until just after dusk, it was a beautiful night.
Once back inside we gathered around the table for a few games of Skipbo. We talked, laughed, and laughed a little more. It was almost 11:00 pm and we needed to head to bed. My body was telling me it's time to go to bed. I was glad we didn't have to get up early in the morning. I spent the next half an hour making notes about the day and then wrote in my journal. I laid my sleeping back out and laid down on the floor in the front room. I wasn't going to need the bag because it was still pretty warm outside, a big change from the previous two nights. I don't remember too much after that.
Another successful day.
Daily Stats

Rider: Devin Holmes
Time Left: 8:00 am
Time Arrived: 7:00 pm
Max mph: 41.8 mph
Avg mph: 11.8 mph
Distance: 83.14 mi
Actual Time Riding: 7:10:12
Elevation Climbed: 3,472 ft
Camp Fee: $0
Shower: $0
Snacks: $7
Ferry: $10
Lunch: $6
Dinner:$0
Laundry: $0
Total Cost for today: $23