Name of Trip: Tour de Cure 2009
When: May 2, 2009
Duration: 1 Day
What: Cycling Trip
Cost: $15 registration, minimum $150 in donations.
Size of Group: Me
Good: The first 60 miles went well. No mechanical problems and I didn't get lost.
Bad: It rained for the last 40 miles.
What would you change: Try and convince a friend to ride with me in the rain.
Saturday 05/02/09
Prologue Note: What would you do for a friend? Would you ride a 100 miles? Some would think you're crazy to ask someone to do that. But some of us are crazy. So crazy that we would say yes if asked. Last November my friend Shirley Hamilton asked me if I would ride the Tour de Cure 2009 for her. Having had Diabetes most of her life she wanted to participate in this event. All I had to do was ride the bike. After 6 months of training, raising money, and more training the day came.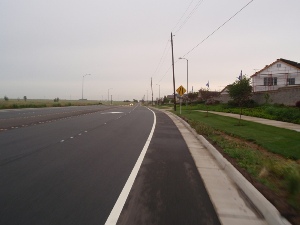 The Ride: The morning brought cloudy skies and wet roads. It had rained heavy for the last 24 hours. Saturday was supposed to be cloudy most of the day with a chance of showers. I had everything ready to go and walked out the door at 6 am. The start of the event was at Hewlett Packard here in Roseville, about 3 miles away from my house.
I took all of my cold and wet weather gear with me so I could decide what to wear right before I leave for the ride. I arrived in plenty of time at 6:10 am and checked in. I was given my number, wrist band, and meal coupon. I took a map and looked it over. Not much different from the route they used last year. I've ridden most of the area the route had laid out except for the Dry Creek area up in Auburn, should be a good ride. The clouds don't look bad and there isn't any wind. I decide to go with the wind breaker vest and minimal cold weather stuff to keep it light. I don't want to be dragging everything around if I don't have to.
It's now 6:20 am and I'm ready to go. I head out onto Foothill Blvd and make my way North. It's kind of weird starting a ride from here in Roseville, so many times I have to drive an hour just to get to the start. I'm surprised that I don't see anyone else on the road. As I head down Blue Oaks the streets are still wet but starting to dry out. I look for the markers to show which way to turn and see that they are well worn out all ready. Most courses are marked a day or two before. They have marked the course with colored tape arrows, almost like a heavy duty duct tape. The problem is they have gotten wet and cars have driven over them. Many of the arrows have lost their color. Looks like I'll have to pay close attention to where I'm at as I go through or I'll miss a turn.
I turn again onto Fiddyment and head North for the dump. I've ridden out this way many times but today it smells more than ever thanks to the rain. Can't get through here fast enough. I'm warming up fine now and don't feel the cold much. There is a slight breeze but nothing that will bother me today. Clouds are on the low side but doesn't look like it will rain.
A couple of turns later and I'm heading East to Lincoln. I ride through a couple of bad farm roads that really need to be paved. About this point I meet up with two other cyclists as they pass me by. They're not going to fast so I kick it up a little to keep in line with them. It's always nice to pace with someone. We cross Highway 65 and turn North onto Gladding. This road I've been on many times with the Tour de Lincoln, next weekend I'll be heading on this same road. The traffic is light and there just isn't much out yet. The miles are ticking by quickly and I'm making good time.
Up ahead is the first Rest Stop of the day. It's a small group and they're all standing around waiting for something to happen. I find out that our little group of three is the first of the day. I didn't realize we left so early. I wondered why there wasn't any other bikes on the road to pass up, we were it. We fill up on Gatorade, have a few snacks, use the restrooms and just as we are ready to leave a big group of about thirty cyclists pull in. We stay another two minutes and watch as they all got in line to use the restrooms. We're good, time to go.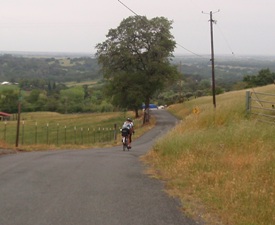 A few out of the group decided not to stop and follow us out as we leave. There is a tandem and three other cyclists. Tandems are even more fun to follow, they really block out the wind and are easy to follow. We make our way up and around Kracher Road and soon have Camp Far West Reservoir on our left. We're still together as a little group and enjoy drafting off of each other. We head onto N. Forbes and do some quick climbing. The group breaks apart fast, some pull ahead, others get left behind, while the tandem slows down a little. We turn onto McCourtney and regroup for a bit. The road is smooth and the pace is picking up. Up ahead is another small roller to climb. Again some get dropped and others pull ahead.
Big Ben is the next turn and somehow I've managed to end up by myself for a bit. This is a familiar road as I've been down this one a few times, again from the Tour de Lincoln. Along here is where there is a rest stop, be here next week. I follow along Mt. Pleasant, Mt. Vernon, and then onto Wise. Again another familiar road. As I turn onto Wise I catch up with a group of six guys. I slip in between and follow along at a nice pace. The next rest stop is just up ahead and I am ready for a break. It doesn't seem like it but we're climbing along the ridge, it's not a steep climb but we're doing good to keep up the pace at 16 mph. Up ahead is a sign for the Fire Station, and there it is sweet relief rest stop #2.
This rest stop is shared by those on the 100, 65, and 40 mile routes so there are a few people already here. But they haven't been out as long as we have. For those on the 100 mile route we're at the half way mark. There are a group of women here manning the rest stop and making sure we have everything that we need, even somethings that we won't need today, like sunscreen!
I fill up on liquids again, eat a bagel with jam & peanut butter, and use the restroom. Break is over and it's time to head out for more miles. From this point you take a left and head up Crater Hill. Crater Hill is a nice warm up for what comes next, Bald Hill. Years ago I climbed Bald Hill for the first time and thought to myself what idiot put this hill on the cycling route. It's just stupid! But now I go there all the time and practice. Today I climbed Bald Hill without even slowing down under 8 mph. Pretty good considering that near the top it's about an 18% grade. I stopped at the top to take a picture, no one walking up this time. Most times someone is always walking their bike to the top having given up.
Down the other side of Bald I head out onto Mt. Vernon again and head North onto Joeger. Haven't been here before this should be fun to find new roads to ride along. It's a steep drop as I wind along the edge of the hill, a number of small waterways are along the side as well. Everything is green and lush. From here I turn onto Dry Creek Road and then Christen Valley. I've been through here only in a car and it all looks different for some reason. There are a lot of up and down hills as I ride through. I'm able to meet up with two other guys and we start to ride along together. We're almost through Dry Creek when it starts to sprinkle. I look down, only 40 more miles to go. Hopefully the rain won't get too bad.
We come out of Christian Valley and onto Bowman, up ahead you can see Highway 80 and a big sign for the Dry Creek exit. The sprinkles are starting to get heavy. We follow along the freeway and it's hard to keep the speed down under 30 mph. I keep feathering the brakes, the last thing I want to do is slip and fall on this wet road. We end up on Palm and cross over Highway 49. It's about 11 am and I decided to stop and call Shirley at this point so she knows what time I'll be back, hopefully about 1 pm. I ask how the weather is back in Rancho, pretty wet she says. Looks like I'm going to be soaked by the time I get back.
One of the guys has pulled ahead without us. The other decided to stop with me. He's not familiar with the area and I tell him I've been through here many times. We're now looking for Millerton, an awesome hills to go down, but not on a wet day like this! I caution him to watch his speed near the bottom because we have to make a quick right turn. I look down and I'm doing 30 mph, I finally take off my glasses because the rain is just coming down to fast and I can't see. The roads have puddles and it's no good trying to avoid them anymore. My shoes are filling up with water and try not to think about my toes sloshing around. I'm still warm and doing fine, just keep going.
We're back out onto Wise and that means we'll be at the Fire Station again soon. Up ahead around the next turn, 80 miles, only 20 to go. I pull over and fill up on liquids again, eat a few things and fill up the bottle on the bike. The women who were here before are still here but now they're standing at the table holding up umbrellas to cover the food. A SAG bus is here loading up cyclists that are calling it quits. After I look at the bus I turned around and told the women standing there, "I'm here because my friend asked me to ride a bike for her. I'm riding this thing to the end!" I got a few cheers and claps as I mounted my bike and rode off into the rain.
The next 20 miles went quickly. As I made my way through Lincoln the heavens opened and all came rushing down. All I could think about were warm shoes, dry socks, and a hot shower. You just have to think about the reward at the end to get you through it. Soon enough I was at the dump again smelling the wet trash and soggy mulch. I made a left turn and headed down Fiddyment once again. There were a few stragglers behind me from the other routes, up ahead I could see a few slowing down as well. I turned left onto Blue Oaks again and up ahead is HP. I stopped at the light, a cyclist waiting there looked at me and said, "Too bad I can't cut through the field to get to HP." Good luck with that one. Instead you have to go all the way around to the front. It's almost 1 pm and I'm on the home stretch. Up ahead I turn onto Foothill and make the final push to home. I turn right and then follow the road back to the parking lot. I pull up to my car and get off the bike. I look it over, what a mess. It's amazing how much crap ends up on your bike after riding it in the rain for 40 miles. All the grit, sand, and mud from the road. I need a shower and so does the bike.
I call Shirley and find out she's still in route. How did I beat you here? Accident on the freeway. A few minutes later Shirley arrives and we take the ceremonial picture. I put the bike and change into a few dry clothes. Okay, lets eat! They had some great food since Chipotle catered for the event, love those burritos. I had more to drink and then we chatted for a bit. As I sat there cooling down my body was starting to shiver. I thanked Shirley for having me ride and it was worth it in the end. Time to get home and take a hot shower.
Epilogue Note: A final note to thank all of those that sponsored Shirley and I for the Tour de Cure. We had a total of 37 people donate towards this cause. With your support and donations we were able to raise $1,501 toward the American Diabetes Association. Through this all I learned a lot about this disease and how it affects so many people. I have learned to appreciate the good health that I have and how important it is to take care of myself. Above all I will never forget the day that Shirley asked me, "Would you ride your bike for me?" So I ask you, "What would you do for a friend?"
Photo Gallery

Starting out in the early morning hour along Fiddyment.
Rest Stop #1 we were the first somehow.
Just as we were leaving the rest of the group finally shows up.
Coming back from Camp Far West Reservoir with the tandem up ahead.
Riding along Big Ben headed towards the hills.
Making our way along Wise I was able to connect with this group for a bit.
Rest Stop #2 at the Fire Station on Wise. Used it many times.
There are a few more here with the 40 mile route using it as well.
Please take my picture...
Climbing to the top of Bald Hill, 19% grade, no one to take a picture of this time.
Heading down Millerton it's very wet, but very pretty with all of the green!
Back to the Fire Station at Wise for Rest Stop #3. It's now full on raining.
The SAG Bus is here to take those back. Not me!
At the top of Crater Hill and getting ready to descend.
There ceremonial picture, Shirley Hamilton and Devin Holmes.